Alki PTA Golden Acorn and Volunteer Thank Yous
The Golden Acorn Award is a prestigious Washington State PTA award given out by the Alki Elementary PTA in recognition of the recipients extraordinary commitment to Alki students, families, and staff.
Congratulations to Mel Spiker and Courtney Frank-Teitler, our 2020-21 Golden Acorn Award recipients!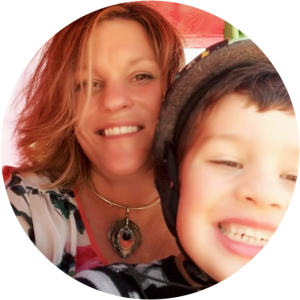 Mel Spiker has done so much for our entire Community in the last few years! We thank her for her dedication to meaningful Family Engagement. With focus in bringing families together, she has tirelessly worked on rethinking our PTA Room Parent Program and has led many community event and initiatives that have enriched the lives of both our children and families. One of Mel's incredible gifts has been securing many grants and sponsors for our community here at Alki. Wonderful events that happen at our school are because of Mel, such as: The Mathnasium Family Math Night, The Google Internet Safety night, The Stem Science Festival, Wellness Wednesdays which helped to keep families and children connect during remote learning times, and Family First Fridays, which included exciting and impactful activities and educational pieces such as: Bingo Night, Anti-Bullying Night, Game Night, and more! Last year she singlehandedly wrote and was awarded the COVID-19 Community Relief Grant sponsored by Tik Tok, which helped to build a brand new Food Pantry and Library, provide food for families with food insecurities, and supply protective gear to Alki Students and Staff at a much needed time.
In these past few years, Mel also took on the task to have Alki Elementary recognized as a School of Excellence, celebrating our collective school successes, and paving the way for even more accomplishments.
In her time as a parent volunteer at Alki Elementary, Mel has also served as PTA Board Secretary, Family & Community Engagement Chair and helped to set up, deliver, organize during so many PTA sponsored events! The list is incredibly long, and for this, our gratitude in never-ending – Thank you so much Mel for your time, hard work and support, and for being here for our kids so selflessly throughout the years!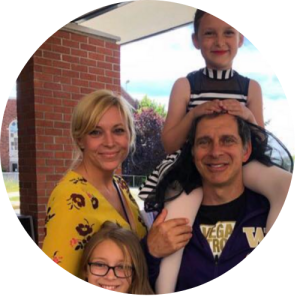 Courtney Frank-Teitler: You have been an absolute lifeline for our school and families these past few years, and we are immensely grateful!
Through your leadership and fundraising efforts, you have kept the Alki PTA afloat in hardship, and are a constant reminder that everything we do is for the kids, but also our entire West Seattle community (and beyond, supporting local and Pike Place Market businesses along the way!).
Running the Auction (when we had one!), gathering an incredible board as part of the Nomination Committee, sitting on the BLT, attending budget meetings, spending countless hours procuring fundraising partnerships and packages, helping with grants, Wellness Wednesdays, Family First Fridays, making the holidays extra special this year with the most thoughtful touches, putting together an incredible remote Alki-a-ton, prepping, delivering, wearing costumes (!), keeping a smile on everyone's face, and keeping everyone motivated and accountable (that moral compass!).
Courtney is the most hard working, creative, loyal, and inspiring volunteer– thank you for everything you have done and the legacy you're leaving. You and your family will be missed!
The PTA would also like to address very special thanks and acknowledge the dedication of the following Alki parents / volunteers:
Brooke Fitterer: Brooke has been involved in so many of Alki PTA's most labor intensive endeavors in the last few years: most notably, she was the auction closing chair for FIVE auctions in a row, taking on this high stress, fast paced role and handling it with grace, and professionalism. She also brought her can-do, calming presence to the high-energy, controlled chaos of the PTA Musical, volunteering during rehearsals and working backstage on multiple productions. Brooke has also chaired and coached several years of the PTA Running Club, donated time and food to Staff Appreciation Weeks, Staff luncheons and Room Parent programs, and supported countless PTA events by lending a hand. This year again, she has found a way to support staff and students as she joined the 5th Grade Promotion committee and, along with her fellow committee members, has worked towards giving this years' 5th graders a proper send off. Brooke is one of those golden volunteers that is always there and gets the job done and we are so very grateful!
Ali Pankop and Salleigh Knox
Special thanks to our Communications co-chairs Ali Pankop and Salleigh Knox! The PTA has achieved so much in this very unique year, and none of it would have been possible without you! Starting with the Back to School supply drive, Weekly ENews, running online sales through our Square site, planning, procuring, and dividing up supplies for the Science Festival, running a wonderful Staff Appreciation Week, working tirelessly to help build our Yearbook, the list goes on and on. We are forever grateful for all your hard work, incredible heart, sense of humor and great eye for graphic design!